loof751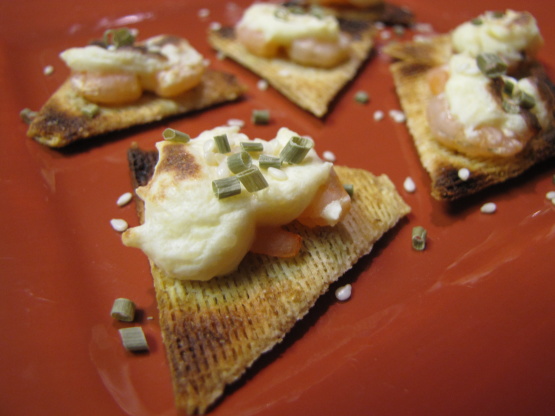 I make these and after cooking, freeze on a cookie sheet & then transfer to a freezer bag. Love, Love ,Love to have these in the freezer to pull out when friends drop by. Wonderful as an open face sandwich.

These little gems are a delight! So quick and easy to make and so tasty. I used frozen salad sized shrimp and thin triscuits instead of melba rounds. Made with ingredients I always have on hand these can be ready for guests (or just us!) in a flash. Thanks for sharing the recipe!
Place shrimp on each round. Combine mayo, cheese & onions.
Spoon mixture over shrimp. Sprinkle with sesame seeds.
Place canapes on cookie sheet & broil until golden brown & bubbly.
Serve hot.