Shrimp, Cantaloupe Kabobs
Derf2440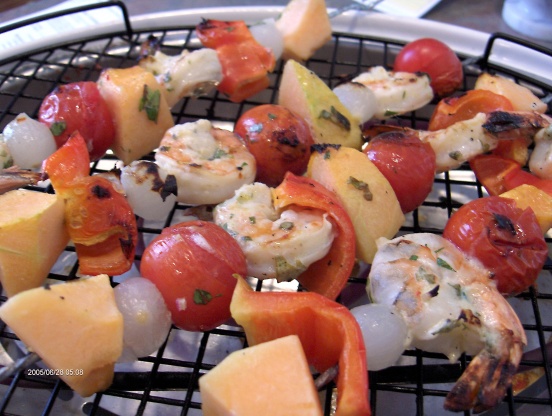 Be sure to soak your skewers for one hour before skewering. You will have 2-3 shrimp per kabob. This can be served on a bed of couscous or orzo pasta for a (Poli' oreo' fagito') excellent meal or served without as an appetizer. This can be broiled as well.

Yum, yum, yum, yum. I had to make chicken skewers for my daughter, who also wasn't sure about the hot melon, but the grownups got the recipe as written, and thoroughly enjoyed them! The cantaloupe is a different addition, which we will probably try grilling again. Thank you for inspiring us to get out the grill.
Mix yogurt, lemon juice, olive oil, brown sugar, white pepper, garlic, fresh oregano, & parsley ingredients in shallow dish.
Add shrimp and toss. Marinate in refrigerator for 1 hour stirring occasionally.
Cook onions in boiling water to cover 4 to 5 minutes or just until crisp tender and drain. Put on skewers alternating vegetables, cantaloupe and shrimp. Season with salt and pepper.
Discard marinade.
Grill 4 to 5 inches from heat 2 to 3 minutes on each side.