IngridH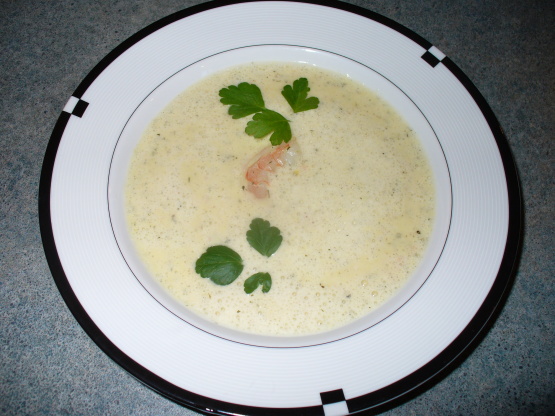 This soup is so easy to make, and it is creamy and yummy! This is a slight adaptation from Moosewood: Cooks at Home. It is wonderful with corn scone/bread and a salad. Enjoy!

I really liked this. It wasn't what I was expecting, but that was okay. Most bisque soups I've had were pink, but the curry in this gives it a yellow color, that really shows off the green of the dill. I made a couple of additions- more salt, and more lemon juice, as the flavor was just a bit flat without them. I made a quick broth by boiling the shrimp shells with some onion and thyme after peeling them, and used this in place of the water or vegetable stock. I also used an immersion blender to puree all of the soup, just leaving enough whole shrimp for garnish. Made for PAC Spring 2009.
Rinse shrimp and set them aside.
In large saucepan, saute' the onions and apples in the butter or oil for about 10 minutes, until the onions are translucent.
Sprinkle in the flour and cook, stirring for a minute or two.
Then stir in the stock or water, lemon juice, lemon peel, curry powder, dill, salt, white pepper, and wine.
Simmer, covered for about 5 minutes, until the mixture thickens slightly.
Add the shrimp and half-and-half, and simmer gently until the shrimp turn pink. Be careful not to overcook the shrimp or they will become tough (they don't take long)
Remove the lemon peel. In a blender or food processor, pureé about one third of the soup and the return it to the pot. Serve and enjoy.