Parsley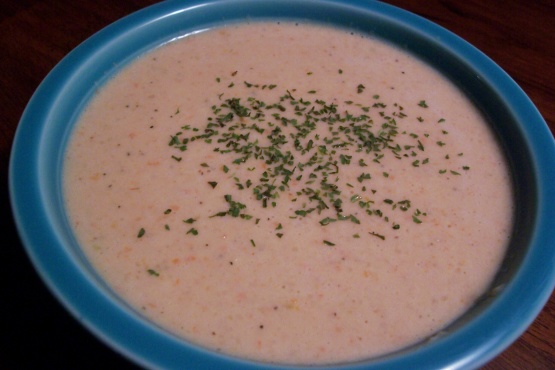 Yummy! Serving amounts are an approximation.

Simple ingredients, quick to prepare, and was delicious. Everyone in the house loved it. I made a few tweaks because I eat low carb. I replaced the half and half with a full cup of heavy cream, and replaced the carrots with chopped cauliflower. By doing these things it was thick enough I didn't need to add the flour. No half and half, no flour, and no carrots reduces the carbs to about 5g per serving.
In a large soup pot, over medium heat, melt butter. Add onion, celery, carrots and garlic. Sautee for about 5 minutes.
Add wine and water to pot. Cover and simmer for about 20 minutes or until vegetables are soft.
Pour in stock, tomato paste, half and half, flour, lemon juice, shrimp, and the spices. Mix well. Heat through.
Add the sour cream. Stir well; remove from heat.
Puree in batches, if necessary in blender or food processor.