Shrimp Baked With Tomatoes and Feta (Low Carb)
SEvans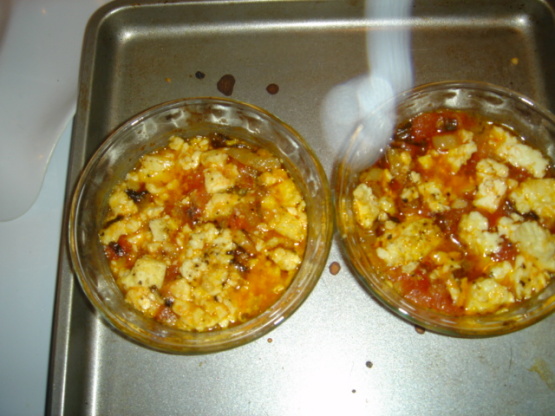 Truly tasty and easy to prepare - this recipe is for 2 people (4 caraffes) and can easily be increased and cooked in a single Pyrex container.
In a glass or plastic bowl toss the shrimp with the lemon juice and set aside to marinade.
Preheat oven to 400°F.
Heat oil - add green onions and shallots sauté for a minute - then add garlic and saute another minute.
Add white wine and simmer to reduce the liquid by half.
Add tomatoes, parsley, basil, salt and pepper to taste, reduce heat to low and simmer for 30 minutes.
In individual caraffes place a small amount of the sauce on the bottom. Divide the shrimp evenly amongst the Caraffes - evenly distribute remaining sauce over the shrimp.
Crumble feta over each dish and place dish uncovered into your preheated over. Bake until the shrimp is cooked through, approximately 20 minutes.
Serve with crusty bread, salad or what ever you have on hand.