Shrimp & Andouille Sausage Jambalaya
Prep 20 mins
Cook 35 mins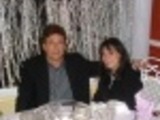 One of my best friends, Sharon, gave me this recipe. It is one of the best jambalaya recipes I have tried, and I make it quite often. If the andouille sausage is too spicy for you, you can always substitute 2 cups of cubed cooked ham.
Directions
In a Dutch oven, saute onion, celery, green bell pepper, and garlic in butter until tender.
Add the next 9 ingredients; bring to a boil.
Reduce heat; cover and simmer until rice is tender, approximately 25 minutes.
Add shrimp and parsley; simmer, uncovered, until shrimp are cooked, approximately 7-10 minutes.
Reviews
Most Helpful
What a great recipe!! The family really enjoyed it, and it was very easy to make. If you like more "heat", there is no difficulty to add to this. I made it with no changes to the recipe, and it was so tasty! I served it with sourdough wheat bread, and Hershey's Special Dark Picnic Cake for dessert. Thanks, Jackie, this is a keeper!
Perfect, easy, and attractive! The broth and seasonings are wonderful! Just the right amount of heat and we appreciate that it does not have crushed red pepper in it. I did sub ham for the sausage, omitted the green pepper, and used cooked shrimp b/c they had a great sale on it. We put the cooked shrimp in for 3 minutes. Thanks JackieOhNo! for posting a recipe I will definitely be making again. Made for PRMR game.

I'm giving it 3 stars only because it needed much more flavor than as indicated. I used beef stock (about 3 times as much), 13 oz. of sausage, 1 lb shrimp. I added not only cayenne but Old Bay and about twice the other seasoning. I did add a little more vegetables to it, chopped zucchini, just before the shrimp but I was surprised it needed as much as it did. Once it was doctored up a bit, it was great.