Shrimp and Turkey Sausage Stir-Fry
RuPei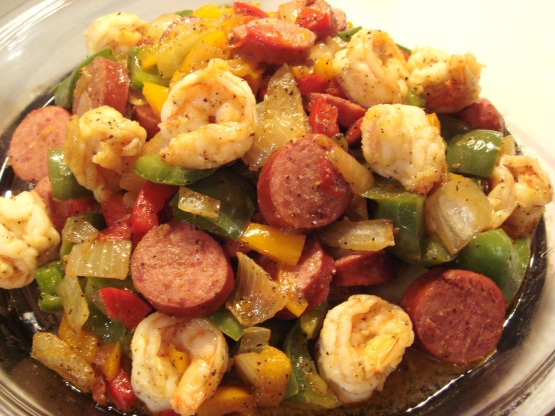 It was originally a "random stir-fry" because I simply used what I had in my refrigerator. I also experimented with Worcestershire sauce this time. It's not a traditional ingredient that we would use for stir-fry. I did love the outcome. The combination of onions, bell peppers, turkey sausage and shrimps makes this dish look colorful and go very well with rice. Plus, it is healthy!
In a wok, heat grape seed oil over medium high.
Stir-fry onion and ground black pepper until onion becomes transparent. Add turkey sausage and stir-fry for about 3 minutes.
Stir in all bell peppers, Worcestershire sauce, shrimps and sea salt. Stir-fry until peppers turn soft and shrimps are cooked and turn red.
Serve hot with rice.