Shrimp and Tilapia Oreganata
teresas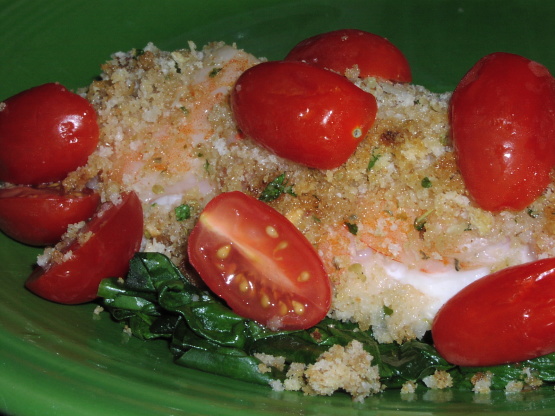 This comes from Woman's World magazine.

We loved this...I do have to admit that next time I don't think I will bother with the tomatoes...although they do add some nice color to the dish...but for overall flavor I don't think they are needed...just the fish with the shrimp and the breading makes this an awesome dish...btw garlic is used in the directions but not in the ingredients...I used a minced clove...this will be made again...so that makes it a keeper in my book...thanks for posting it...=)
Preheat oven to 425 degrees. Coat a 13x9 baking dish with cooking spray. In a bowl, combine breadcrumbs, panko, 2 tbsp oil, parsley, lemon juice, garlic, oregano and zest.
Arrange tilapia in baking dish in single layer; top with shrimp. Sprinkle evenly with crumb mixture; drizzle with remaining 1 tbsp oil. Bake until tilapia and shrimp are opaque and cooked through, 10-12 minutes.
Coat large nonstick skillet with cooking spray. Add spinach; cook, stirring, until just wilted. Divide spinach among serving plates. Top with tilapia, shrimp and tomatoes.