Shrimp and Spinach Casserole
Prep 20 mins
Cook 45 mins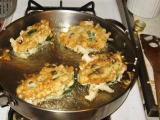 This a quick and easy, but elegant, meal for working couples. If you like quiches, you'll probably like this dish. The original recipe (pre-tweaking) came from Wellspring Classics' "Shellfish Recipes."
Directions
Preheat the oven to 375 degrees F.
Squeeze all water from the spinach.
Combine all ingredients, except bread crumbs and butter, in a bowl and stir carefully.
In a casserole dish that has been sprayed with PAM, pour in the mix.
Mix the bread crumbs with the melted butter and sprinkle them on top of the casserole.
Bake for 45 minutes or until the casserole is firm.
A substitution of 1 tablespoon of chopped fresh thyme for the dried thyme will make this dish slightly better.
Most Helpful
This was very good. I used salad shrimp so I didn't chop the shrimp. I didn't have any plain bread crumbs so I used seasoned crumbs. Will definitely make again.
Yum! I chopped fresh spinach, onions, and eggplant to this. Used panko in place of breadcrumbs and added seasonings for a little more flavor. I also reduced the milk as I'm not a huge fan. It turned out delicious and healthy too! Thanks for an excellent meal idea!
I really loved this! It's so quick to put together. The casserole came out moist, cheesey and somehwat "custardy" but not too much. I had small/medium shrimp, so I didn't chop them. I just added a little garlic, but otherwise stuck with the ingredients as listed. Thanx for a great new way to use shrimp!