Shrimp and Scallop Stir-Fry
Kathy228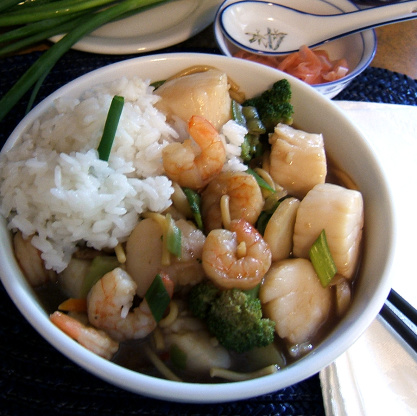 I found this recipe from a brochure that came with my new Anchor Corningware.... The brochure was called "Cooking with Bob and Joyce" I had to try this and it was amazing....So easy and wonderful on a summer day not having to heat house with stove or oven since it's cooked in the microwave.... Serve over cooked white rice....

This was so easy; no pots and pans to clean-up. Perfect for a lovely and quick-to-make dinner after work. I made it as posted with one addition - I added a tbsp of fish sauce. I love ocean scallops so used that instead of the little bay scallops. The seafood was excellent in this. I'll definitely make this dish again. I want to try it with fresh veggies instead of frozen. Served it with jasmine rice and pickled ginger. Thanks Gert.
In 2 quart casserole, combine Japanese-style vegetables and pea pods.
Cover and microwave at High for 4-5 minutes, or until vegetables are defrosted. Stir once to break apart.
Let stand, covered for 5 minutes.
Drain and set aside.
In 2-cup measuring, blend water, cornstarch, soy sauce, sherry, oil, sugar and ginger.
Microwave at High for 3 to 4 minutes, or until mixture is thickened and translucent, stirring twice.
Pour over vegetables.
Stir in shrimp and scallops.
Re-cover and microwave at High for 7-10 minutes, or until shrimp and scallops are opaque, stirring twice.
Let stand, covered for 10 minute.