Shrimp and Pea Pod Casserole
Catnip46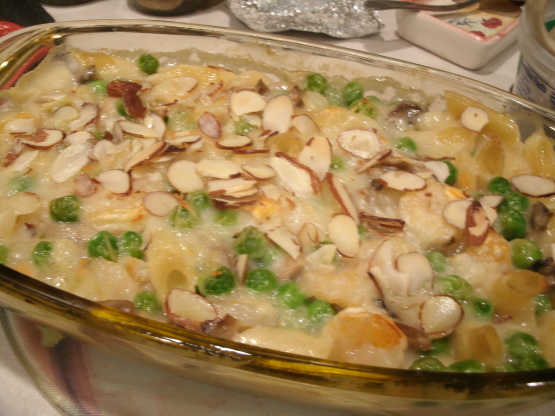 A Betty Crocker recipe. Good but I prefer peas from a can as I don't care for pea pods. I like to use white cooking wine. You needed use any if you don't want to. You can substitute any kind of pasta for the penne pasta.
Heat oven to 350. Spray rectangular baking dish, 13x9 inches,with cooking spray. Cook and drain pasta as directed on package.
While pasta is cooking, melt butter in 3 quart saucepan over low heat. Cook mushrooms and garlic in butter, stirring occasionally, until mushrooms are tender. Add salt and pepper. Gradually stir in milk, sherry and broth.
In a small cup add cornstarch and water until smooth. Add to milk mixture in pan. Cook over medium heat, stirring constantly, until mixture is smooth and bubbly.
Stir in Fontina or Swiss cheese until melted, remove from heat.
Stir pasta, shrimp and pea pods into mushroom mixture; pour into baking dish. Sprinkle with Parmesan cheese and almonds.
Bake uncovered 20-25 minutes or until cheese is golden brown.