Shrimp and Pasta With Creole Cream Sauce
Oat57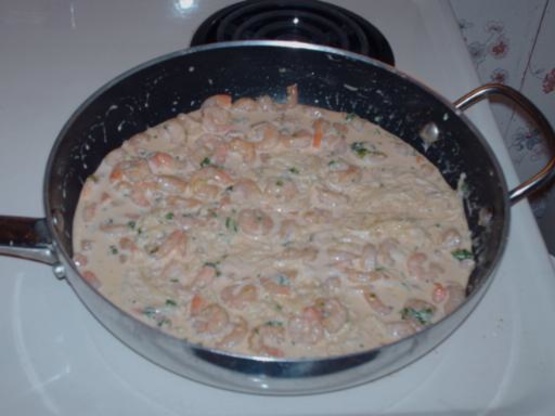 Top Review by Paula5
You could serve this to anyone -- from the queen to your favorite neighbors -- and get praise. Just yummy. I changed it a bit. First off, I used thawed, frozen, boiled shrimp, and skipped the 5 minutes of sauteeing in the butter -- just went right to the green onions and garlic stage. Then, instead of whipping cream, I used evaporated skim milk and just cooked it a tad longer at very low heat to get it to thicken. Added the pre-cooked shrimp that had been resting in the creole seasoning in step 8 and heated everything really well. It came out beautifully, and cut the fat and calories, too. Great recipe!
Peel and devein shrimp; toss shrimp with creole seasoning; set aside.
Cook pasta according to the package directions; drain and keep warm.
In a large skillet over med-high heat, melt the butter.
Add in shrimp; stir/saute 5 minutes or until shrimp turn pink.
Remove shrimp from skillet; add green onions and garlic to skillet; stir/saute 2-3 minutes or until tender.
Lower heat to medium; stir in cream and hot sauce.
Bring to a boil; lower heat and simmer, stirring constantly 8-10 minutes or until sauce is slightly thickened.
Stir in shrimp and parsley.
Toss with pasta.
Sprinkle with parmesan cheese and serve.