Shrimp and Pasta Stir-fry
IngridH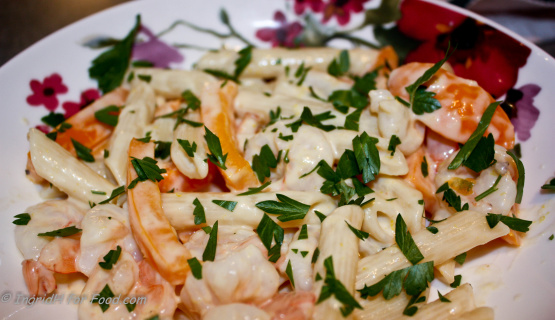 If you are cooking for two this is a great recipe. I believe this recipe comes from Blue Hill Farm Country Inn, Blue Hill, Maine.

This is really good! I love shrimp, and pasta, and lemon, so I figured I'd really enjoy this. I'd love to try it with asparagus, but with the current price so high I'll have to wait until my plants start producing again. Instead I used bell peppers, which give a nice crunch and pretty color to the dish, along with some chopped parsley to add a bit of green color. The sauce feels a lot richer in the mouth than the ingredients lead you to believe- I could swear I'm eating a full fat cream sauce. The lemon is a VERY strong influence in this dish; if you don't like lemon, move on to another recipe. I, however, love lemon, and would be happy to lick every last bit of sauce off of the serving dish. Great dish, thanks for sharing! Made for ZWT8
Slice shrimp in half lengthwise.
Prepare the penne pasta as per package directions.
Mix together the mayonnaise, broth, lemon rind and lemon juice.
Heat the seasame oil in a non-stick skillet or wok.
Stir-fry the ginger and garlic in the hot oil over medium high heat for 1 to 2 minutes.
Add shrimp and asparagus; stir-fry 3 minutes or until shrimp turns pink.
Do not overcook as the shrimp will become tough.
Add mayonnaise mixture and cooked pasta; cook, stirring frequently until heated through.
Sprinkle with lemon pepper and serve.
The cooking time includes the time to prepare the pasta.