Shrimp and Mushroom Linguini With Creamy Cheese Herb Sauce
lazyme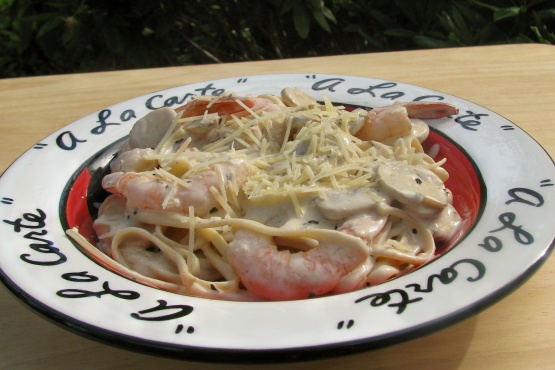 I love nothing better than shrimp, mushrooms and pasta bathed a rich inviting, flavorful sauce. But, if you prefer chicken, sub it for the shrimp, or substitute any vegetable you like for the mushrooms. This recipe is quite versatile and will lend itself to your imagination. The sauce is rich and full of flavor. I think you are going to love it : ) I found this on All Recipes.

Top Review by daduk
Loved this dish! It was nice and creamy and full of flavor. I used a tub (8 oz) of Onion and Chive cream cheese for the plain cream cheese and 1/3 cup milk and 1/3 cup white wine for the boiling water. Also used a pound of shrimp. Great recipe - will be making again
1. Bring a large pot of lightly salted water to a boil. Add linguini, and cook until tender, about 7 minutes. Drain.
2. Meanwhile, heat 2 tablespoons butter in a large skillet over medium-high heat. Add mushrooms; cook and stir until tender. Transfer to a plate.
3. In the same pan, melt 1/2 cup butter with the minced garlic. Stir in the cream cheese, breaking it up with a spoon as it melts. Stir in the parsley and basil. Simmer for 5 minutes. Mix in boiling water until sauce is smooth. Stir in cooked shrimp and mushrooms, and heat through.
4. Toss linguini with shrimp sauce, and serve.