Shrimp and Green Bean Curry
rpgaymer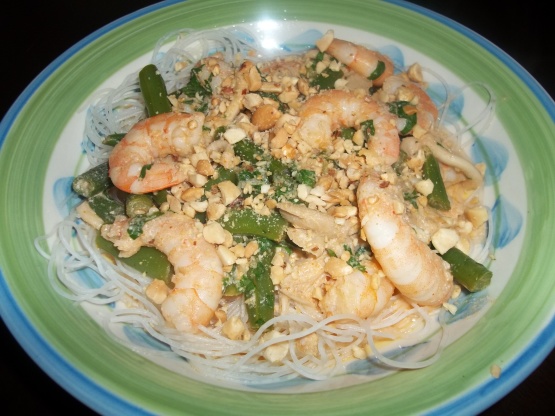 I have grown to really be fond of southeast Asian curries. This one is really good. Serve this over long-grain white rice.
Very good, and easy to throw together. I used more curry paste, and used fresh oyster mushrooms instead of the canned straw mushrooms (I hate the taste of canned mushrooms). Served over rice noodles, which soaked up the creamy sauce perfectly.
In a wok or large skillet, heat 1 T. of the oil over medium-high heat for 1 minute, until hot. Add shrimp and half the garlic; cook and stir 3-5 minutes or until shrimp are pink. Transfer to a platter; set aside.
Add remaining 1 T. oil to wok; heat 1 minute or until hot. Add green beans and remaining garlic; cook and stir 3-5 minutes or until beans are crisp-tender.
Add coconut milk, lime juice, soy sauce and curry paste; stir until curry paste dissolves. Reduce heat to medium; add mushrooms and shrimp. Cook 2-4 minutes or until heated through. Spoon over cooked rice, if desired, and serve.