twissis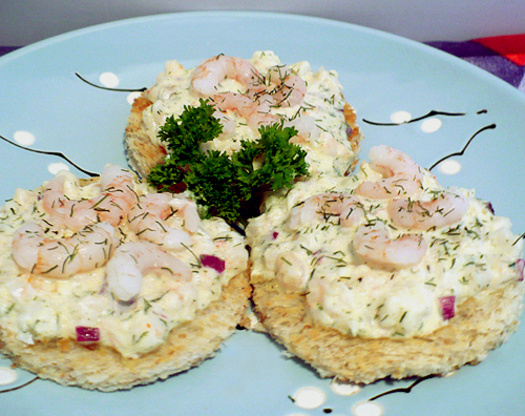 Another tasty tidbit for your next party, and a great addition to a Smorgesbrod setting.

Made as written for ZWT 6, altho I admit to altering the presentation slightly by making the bread rounds larger than directed. I used whole wheat bread, red onion for its mild flavor + a color variant & Icelandic baby shrimp. While the flavor of the shrimp mixture is tasty, I had a prob w/the presentation. The shrimp mixture was thinner than I expected it to be & got even moreso under the broiler, so I never got to a pale-golden color. Thinking that starting w/the shrimp mixture freshly refrigerated & firm might help, I chilled it & it did not help much, but .. To my delight, I found I liked the chilled mix better than after broiling. Go figure, huh? An afterthought became my method of choice. Thx for sharing this recipe w/us.
Blanch shrimp for 15 seconds and drain.
Refresh under cold water and drain well.
Reserve 25 of the smallest shrimp and chop remainder.
In a bowl, combine chopped shrimp, onion, dill, lemon juice, cream cheese and mayonnaise and pepper to taste.
Stir until combined well.
Spread 1 tsp of mixture on each toast round, mounding, and top each canapé with 1 of the reserved shrimp.
Preheat broiler.
Broil in a jell-roll pan, about 4 inches from heat, for 3-4 minutes, or until pale-golden.