Shrimp and Corn Chowder (Rachael Ray)
jenne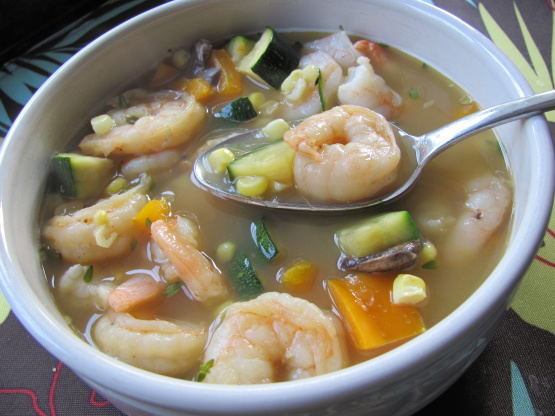 This is my take on a 30 minute meal - Rachael Ray recipe (her original recipe called for seasoning the olive oil with the shrimp tails and garlic and then grilling the shrimp, both of which were way too complicated for me). It is actually a "soup", as it's broth based, not creamy. Very fresh and tasty. She said to feel free to add more broth and some cooked rice to stretch the soup even further. She also said you can add some chopped chipotle chiles and serve the soup with sour cream and tortilla chips if you like.
Heat 2 T of olive oil in a soup pot, add zucchini, garlic and bell pepper, season with salt and pepper and cook for 5 minutes. Stir in the broth and simmer for 15 minutes; add the corn, mushrooms and thyme during the last 5 minutes of cooking.
Meanwhile, toss the shrimp with 1 tablespoon olive oil and season with about a tsp of Greek Seasoning. Cook in a frying pan for approximately 3 minutes, turning once; shrimp will should be opaque when done. Stir hot shrimp into the soup and serve.