Shrimp and Chorizo in Adobo
IngridH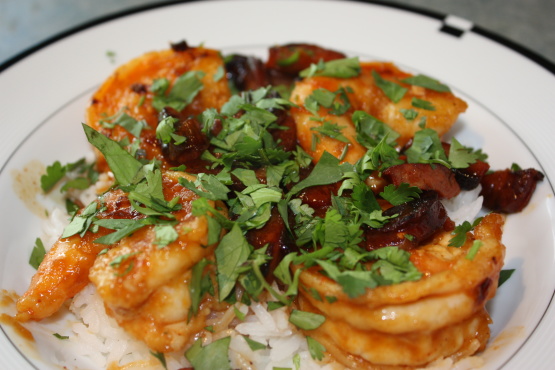 This recipe was demonstrated and served at the 2010 Pensacola Seafood Festival. It is from Brain Cullerton of Dharma Blue. It doesn't take very long and is great tasting! Cooking time does not include the time to prepare the rice you serve this over.

This was very different, but I liked it. Sweet shrimp, spicy chorizo, and a tart sauce combine to really set your tastebuds dancing. I used very little sugar, as I'm a vinegar junky and like my sauces very tart. This came together very quickly and easily, definitely suitable for a weeknight dinner. I had U15 shrimp on hand, so I used them, but making this again, I'd say go for slightly smaller ones (as called for in the recipe). My only gripe is that there is way too much sauce- almost 2 cups. I'd cut that back at least by half, if not more. I used a little less than half, and still though I had more than I needed. I also cut back on the oil, using a bit more than one tablespoon, which I thought was plenty. Made for ZWT7- Emerald City Shakers
For the Adobo Sauce: Combine the ingredients in a bowl. Adjust the sugar taste to your liking.
For the shrimp and chorizo: Coat the shrimp with cornstarch. Heat the oil in a pan over medium heatand saute the onions and chorizo. Add shrimp. When the shrimp are opaque and form a C shape, add the adobo sauce. Continue cooking on low until the sauce is heated through.
Serve over rice and garnish with cilantro and sliced Roma tomatoes.