Shrimp and Chicken Pan Roast
rpgaymer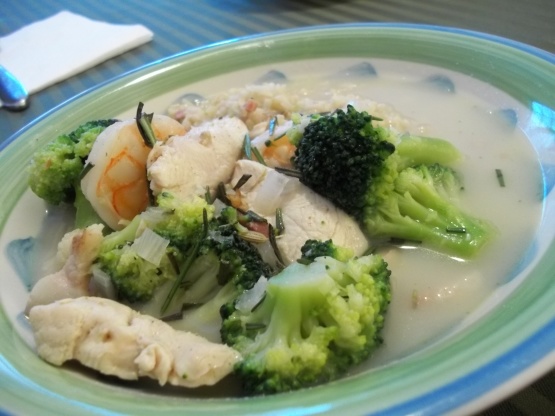 From chef Michael Roberts' cookbook, What's For Dinner?, in the kettle dinners section. He says, "This New England-inspired soup is as warming after a fall football afternoon as it is welcome after a 4th of July fireworks display. The bacon adds a subtle smokiness to the shrimp and chicken. Serve this in large bowls, with plenty of bread for soaking up the last drops of soup." I have to agree!
This was pretty good! I'm not a big fan of European/American food, but this was well-flavored and refreshing. The thyme was a nice touch and the broth turned out great, but I really could not taste the bacon in the stew. I wish I had used oysters, but alas my store did not have any fresh ones. I really think that they oysters would have made this dish exceptional! [Reviewed for PLEASE REVIEW MY RECIPE]
Add the bacon to a large heavy pot or Dutch oven set over low heat and cook, stirring, for 2 minutes, without browning. Pour in the white wine, increase the heat to high, bring to a boil, and cook for 1 minute to burn off the alcohol.
Add the chicken, shrimp, stock, garlic, onion or shallots, celery seed, and aniseed; if using dried tarragon, add it now. Bring to a boil, then reduce uncovered, for 2 minutes. If using oysters, add them with the milk. Taste the soup for salt and pepper and add as desired.
To serve, using a slotted spoon, transfer the bacon, chicken, shrimp, and broccoli to individual soup bowls. If serving rice, add it to the bowls. Return the broth to a boil and stir in the butter until melted. Remove from the heat and, if using fresh tarragon, add it to the soup. Serve the soup in a tureen, and ladle it into the garnished bowls at the table.