twissis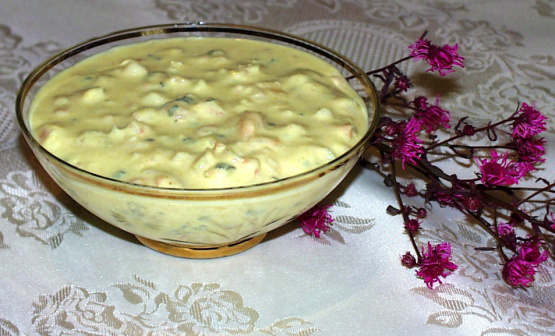 This is from my Mom's recipe cards. I have not tried this.

This dip is unique, tasty & very easy to fix! All the ingredients are personal favorites & compliment each other well. I used baby shrimp (not canned) & mango chutney. Spreads are more favored than dips here in Iceland, so I reduced the sour cream by half to get more of a spread consistency, added parsley flakes for color & also a generous amt of Tobasco for some zip to balance the sweet. I served it w/cucumber slices, assorted crackers & toasted bread roll halves lightly brushed w/olive oil. While we liked this, DH & I both agreed it was a bit sweet for us. That may have been paritally due to my reduction of the sour cream, but next time I will use less chutney or perhaps a savory chutney. Thx for posting.
Chop all ingredients together until smooth.