Shrimp and Cheddar Patties
Evie3234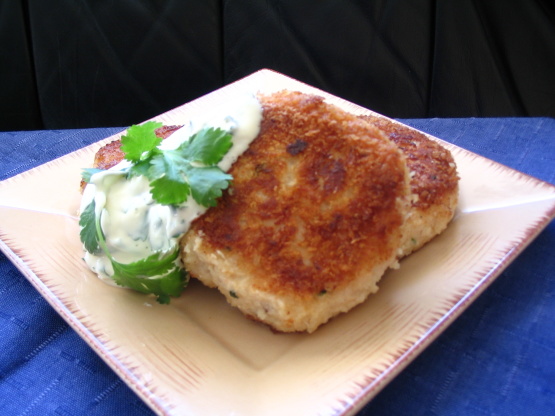 I got this from a Sargento Cook book a few years ago, I have altered it a lot to suit my picky eaters.

I used Salmon (because I really LOVE salmon) and used fresh parsley (because I really HATE cilantro). Unfortunately I had to use lemon juice because, alas, I had neither lime nor juice of same and used cracker meal instead of breadcrumbs (personnal preference). These were still really good though. Next time (and there will be LOTS of "next times") I will be sure to have limes because I think that we'll like them even better then! Thanks for posting this!
Combine mayonnaise, cilantro and lime juice and set aside.
Coarsely chop red snapper in a food processor, add Shrimp 3/4 cup bread crumbs, 1 1/2 cups cheese and 3 tbsp of mayonnaise mix, process untill combined Coat patties in rest of bread crumbs and cook in veg oil 3 minutes for each side or untill done.
serve with remaining mayonnaise mixture.