ChefLee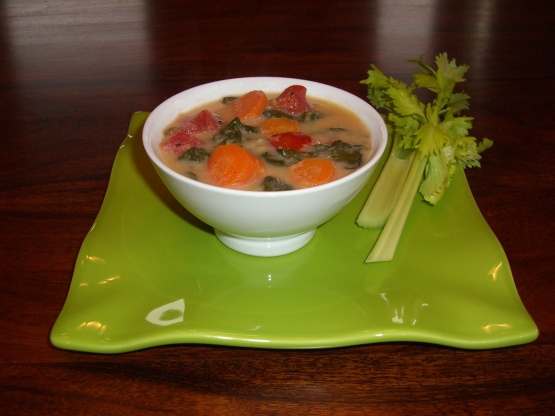 I made up this soup and named it after Shrek because it's chunky, has lots of green and is a little sweet and spicy! Please try to use the fire-roasted tomatoes and fresh spinach, they give such great flavor. They carry the Muir Glen brand at Whole Foods and Wal-Mart Supercenter. I hope you enjoy it!

Overall it was pretty good for a vegtable soup. It didnt say where to add the ginger in so i just added it in the end. I also substituted a jalapeno for half a habanero since my grocery store was out of jalapenos at the time and i love habaneros. I used plain diced tomatoes since i couldnt find the ones called for and added some galic powder at the end. Very tasty, but a bit salty.
Melt butter in a large soup pot.
Saute onions and jalapeno in butter.
Add your broth and turn down to med. heat to a simmer.
Add carrots, celery, and applesauce.
Simmer for 30 minutes, stirring occasionally, until carrots are tender.
In a medium bowl; mix together yogurt, ginger, chickpeas, tomatoes, lime juice, Lawry's, and vinegar. Stir well.
After the 30 minutes are up, add your yogurt mix and spinach to the soup. Stir very well and bring back up to a boil.
Cook for 10 more minutes, remove from heat and serve.