jrusk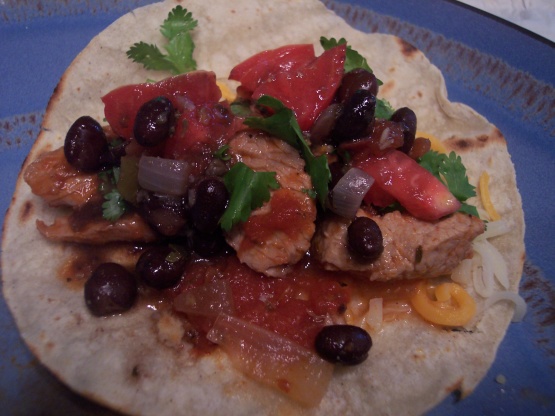 Since my DH HATES chicken, I have to find different recipes for other meats. This is one I can't wait to try for pork! This is from Everyday Food.

Top Review by jrusk
This was good but I didn't think the sauce was anything special. I sent my BF to the sotre and I ended up with boneless shoulder chops..haha. So I just sliced the meat thin instead of shredding it. While it was cooking I added a lot more spice because I knew it wasn't going to be right for me. It was good and we'll eat the leftovers but I wouldn't make this again.
In a large (5 quart) heavy pot, heat the oil over medium heat.
Add the onion, garlic, thyme, oregano, and bay leaves. Season with salt and pepper.
Cook until the onion has softened, about 5 minute.
Stir in the tomato paste.
Add the pork, tomatoes (breaking them up) and their juices, the chipotle chili, and 1 cup of water.
Bring to a boil.
Reduce the heat, cover and simmer until the meat is very tender, 2-2 1/2 hours.
Discard the bay leaves.
Using tongs, transfer the meat to a large bowl and shred with two forks.
Discard any large pieces of fat or gristle.
Return the shredded meat to the pan, and simmer until the sauce is thick, about 30-45 min more.
Season, if necessary, with salt and pepper.
Spoon pork and sauce into toasted tortillas. Top with a little of the crumbled queso fresco and cilantro, if desired.