Shredded Chicken Pasta With Fried Basil and Feta
Kelly N.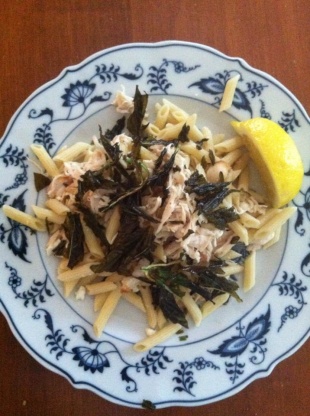 Oh, this is so good! I made this last night, almost against my better judgment. I can't believe I nearly missed out on it! It is so easy, and every step is worth it! Serve it with Lemon Wedges, the extra citrus is an amazing taste, and the presentation is gorgeous!

my family liked this but didn't love it. a little to plain for our taste. they did the the "interaction" with squeezing their own lemon wedges over the dish.
Boil salted water in a saucepan for the pasta. Cook until done. About 4 minutes for fresh, and 8 minutes for dried pasta. Drain and set aside.
While pasta is cooking, rub salt and pepper on the chicken breasts. (This is optional, but I like the extra flavoring.) Heat olive oil in a large skillet.
Cook the chicken in the oil about 3 minutes on each side or until juices run clear.
Remove the chicken from the pan, and shred. Mix chicken and feta with the pasta.
Add a little more oil to the pan and fry the basil. Remove when it is crispy. (Don't worry, once it's past the wilted stage, it will crisp up. Believe me!).
Top pasta with the fried basil and serve with lemon wedges.
Enjoy!