Shredded Chicken and Walnut Sauce
Brenda.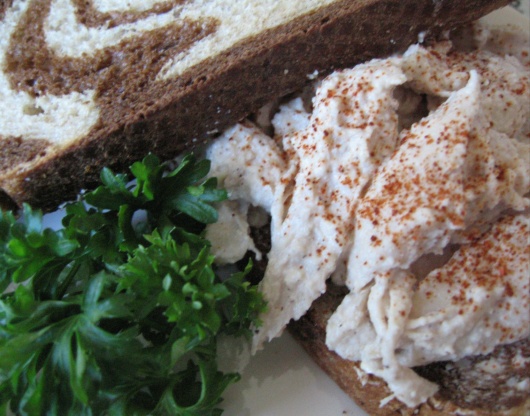 This is from a Penzey's cooking magazine. I think I'll be trying it very soon!

This was good. It definately has sort of a baby shower/tea room brunch kind of taste. I added a little minced garlic and toasted the walnuts first for more flavor. While I cooked some noodles to pour this over, I got out the pita chips and dipped into it. I think it would make a lovely dip with maybe some melted feta over the top. I agree with a previous reviewer that this recipe has a lot of possibilities.
In a large pan, simmer the chicken with water and 1/2 tsp salt until cooked, 20-50 minutes, depending on whether it is bone in or not.
Strain through cheesecloth or a fine strainer and set chicken aside to cool.
Boil the water stock down until you have 1 1/2 cups.
Remove the cooled chicken from the bones while the stock is reducing and chop into 1-inch pieces.
In a food processor or blender, blend the walnuts, onions and cooled, reduced stock.
Break the bread into chunks and add to the blender, along with 1/2 tsp paprika, 1 tsp salt and the pepper.
Blend to a smooth paste.
Put the chicken pieces in a bowl, pour the walnut paste over, and toss gently to combine.
Garnish with the remaining paprika and sliced black olives.
Particularly nice served with fresh fruit.