Sara 76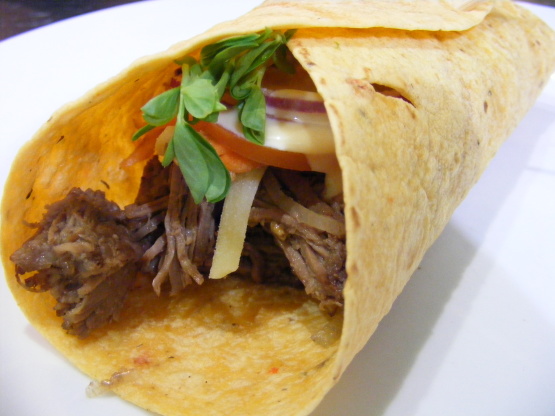 These are SO good! They make a really nice casual dinner, and are a fantastic wrap to take for lunch (fold both ends in before rolling if taking in a lunchbox.) I use Roast Shredded Beef ( Roast Shredded Beef ) and Honey Mustard Mayonnaise ( Honey Mustard Mayonnaise ). My whole family love them! We use sun-dried tomato flavoured tortillas, and they really add to th eflavour, but if you can't get them, just use regular ones. The measurements for the filling are approximate, basically just sprinkle small amounts on, to your own tastes.
Place tortilla on work surface.
In the centre, spread the Roast Shredded Beef.
Layer the other ingredients on top of the beef (refer to pictures for details).
Fold up bottom, then fold sides over, to make a wrap.
Enjoy!