Shredded Beef or Pork Chimichangas
gailanng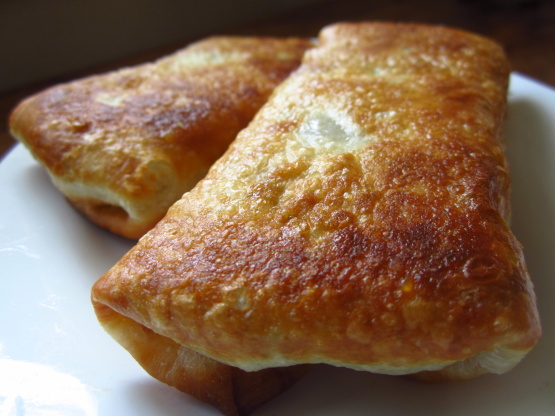 This is the one recipe everybody asks me for. This recipe is an all day project. It is well worth the effort. If you have a large freezer, you'd probably fill it up with these. The kids can eat these when they come home from school, a quick dinner when you don't feel like cooking, etc. When I tripled this recipe I started at 10am and finished around 6pm. I made about 60 of these. I roll up the sleeves and make these about twice a year. There is always a family gathering on the night they come out fresh. Bet you can't eat just one!

Ridiculously good! Seriously incredible! I've tried to make chimichangas before and they just didn't turn out but I decided to give it another try and picked this recipe because it seemed fairly easy and straightforward. I've been trying to cut some fat out of my diet so I used a very lean pork tip roast and threw it in my crockpot with all of the spices and stuff for 8 hours. When it was done I didn't even have to shred the meat it was so tender, it fell apart as soon as I took it out of the pot! A couple pulls of my fork and it was ready to go. I didn't reduce the liquid down, I just strained the onions out of the liquid (personal preference) and added some of the liquid into the meat. The first two I put into the pan ended up falling apart so I stuck some toothpicks into the ends of the others and fried them folded side down first and then pulled the toothpicks out and flipped them over. Absolutely amazing! I can't wait to heat the rest up for lunch tomorrow!
Cut meat into large chunks (3-4") and place in cooking pot. cover with water. Add all ingredients except for last three items.
Bring to a boil then cover and cook on medium hear for at least two hours.
After 2 hours, bring back to full boil with lid removed.
While evaporating water, remove several pieces for pot and shred using two forks. When only +/- 1/2" of goop is left in the pot, remove from heat and return shredded meat back to the pot and blend with remaining slurry.
Open a package of tortillas and place in microwave with a wet paper towel placed on top. Microwave on high for 1 minute.
Place a tortilla on plate and spoon 1-2 Tblspn of meat at bottom of tortilla. Sprinkle with shredded cheese, chopped onion(optional) and roll up burrito style.
Repeat with remaining tortillas until all the meat is used up.
In large skillet, heat up 1-1/2" depth of oil to approximately 350 degrees. (If you put too much oil in the skillet or if it gets too hot, the chimis will begin to unravel). Cook until browned on each side (about 3 minutes). Drain on paper toweling.
Eat'em while they're warm -- freeze the rest.
Reheat frozen ones in the microwave on high for three minutes or place on rack in a preheated 450 degree oven for 8-10 minutes.
Serve with chopped tomato, lettuce, cheese, sour cream (stuff you'd put on a taco).