Shredded Barbecue Chicken and Chips
Nimz1466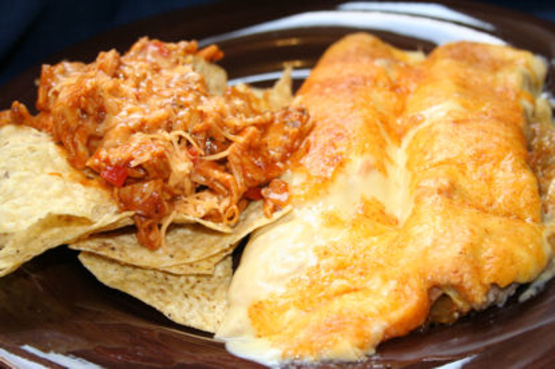 Made this up and the family liked it. It will be spicy or not so spicy depending on the BBQ sauce you use!

These were a huge hit at my house! My son and his gf plus three Repo Guys all inhaled these. I made this exactly as written except that I doubled the recipe, and it was a good thing I did! I used the Scoops type chip and piled them on a tray and tossed them in the oven to melt the cheese, they came out great! Thanks WI Cheesehead! Made for the Potluck Tag (January) Bring a Friend Event.
Chop or shred the chicken and set aside.
In a large skillet, saute onion and bell pepper until soft. Add garlic at the last 1-2 minutes.
Add reserved chicken, barbecue sauce, vinegar, brown sugar, and water and simmer until heated through (maybe 5 minutes or so).
Either add the cheddar cheese at this point and stir until melted, OR save to sprinkle on top of chicken.
Give each person some tortilla chips and top with chicken mixture. Add optional cheese.
Top with some sour cream or plain yogurt, if desired.