Parsley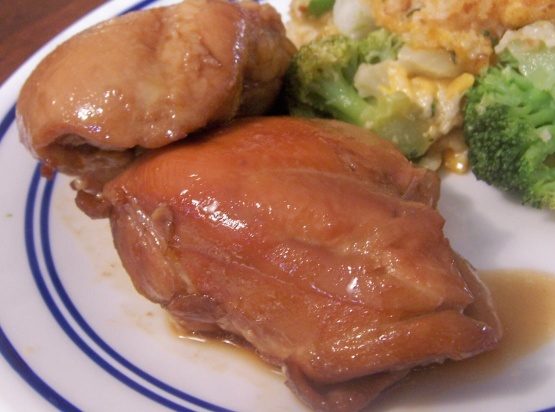 This came from a friend in Hawaii. It is delicious, economical and easy to make! Everyone asks for seconds. It can be adapted for cooking on the stove or oven, but the crock pot was best!

This is my first post @ food.com. I make this with equal parts soy sauce, water, sugar and fresh instead of powdered ginger. .So, 2 cups of each ingredient ginger, or 3 cups or whatever amount you need to cover chicken completely. I think what's missing here is some sliced FRESH ginger, and lots of it ;) I live in Hawaii and most people here make shoyu chicken with fresh ginger. It really changes the flavor. See if your grocery store carries 'hand's of fresh ginger in the produce section. It is a brown root with 'finger' sized branches. I just peel a 4 inch hunk, and slice into 1/4 inch or so pieces until you have about a 1/3 cup pieces (rough chop). This makes it easy to separate hunks out before eating, as you don't actually eat the cooked ginger. If you cook this with real ginger, and equal parts of liquid ingredients, I think you will see a big difference in the flavor. Maybe I should've just posted a recipe? ;)
Mix all ingredients, except chicken, in a bowl and mix.
Place chicken in a crock pot and pour sauce on top.
Cook on low heat for about six hours, stirring occasionally.