marisk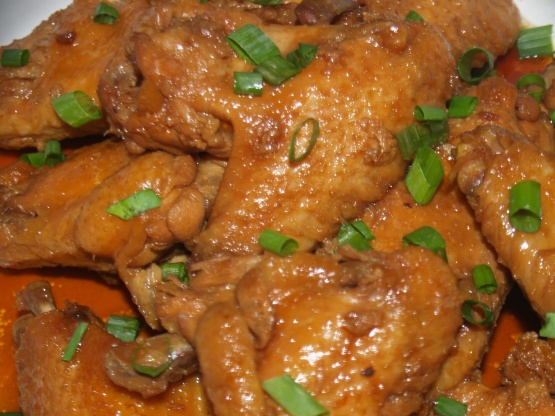 This is a simple, one pot dish. Sorry, didn't time the cooking. I put in 30 minutes but it may take more or less depending on how much chicken is being cooked. I don't use it myself, but you can also add some sake to the dish as it cooks. Just a little note: I changed the soy sauce to low-sodium ... this runs a bit on the salty side using the regular shoyu. I haven't tried it with the change yet. May need to cut back on the shoyu too.

This is the shoyu chicken I remember. I used less oil but otherwise the recipe is the same. I put the pot in the frig overnight to defat it. I used 5lbs of chicken thighs so I doubled the sauce.
Heat oil in large pot.
Add chicken and cook about 2 minutes. Stirring occasionally.
Add ginger. Continue cooking 3 minutes. Stirring occasionally.
Add all other ingredients. In adding the sugar: add some, mix, taste; repeat if needed -- too much makes it too sweet. It should be a nice balance between the salt of the soy sauce and the sweet of the sugar. Someone once told me to put in equal amounts of sugar and soy sauce -- it was a little too sweet for me.
Cover and simmer until done; stirring occasionally. (about 45-60 minutes).
Remove ginger (optional).
Serve with hot rice. (there will be lots of gravy).