gailanng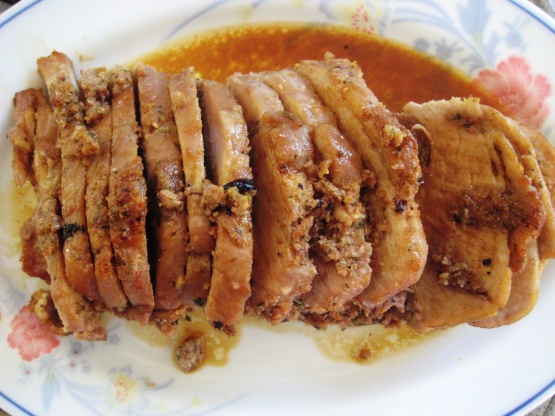 My favorite do-ahead party dish. Excellent taste, very easy to make, and perfect for everything from a casual to a formal dinner party, or even a buffet. It's great served with braised belgian endive or lightly sauteed broccoli rappe, green salad, wine, and even pasta. Versatile and easy dish. My go-to dish when we've got friends coming over, and I can't think of what to make.
Beth, Queen of all things pork, this recipe is divine! I usually cut my roasts and stuff garlic in the slices but this is even better! I had more of the seasoning butter than I could stuff in the cracks so I smeared it all over the top of the roast. I didn't even use the spoon, I just used my hands, its more fun that way! Also,I decided not to do the crockpot thing and just put it in the oven like the recipe stated. It was sooooo yummy and the prosciutto got all cruchy, like bacon. This roast definately is very show-offy! Thanks so much I will make this again and again! I wish I could give it 7 stars!!
Mix together butter, prosciutto, garlic, rosemary, parmesan, and black pepper and set aside (can be made in advance and refrigerated up to one day, but warm to room temperature before proceeding).
Preheat oven to 350 degrees F.
Cut slits about an inch or so long and a half inch or so deep all over the top of the roast.
Spread butter mixture over the roast, using the handle of a spoon to get it into the slits you made earlier (very important).
(At this point, you can wrap roast in plastic and refrigerate overnight and up to 1 day.) Put prepared roast in a roasting pan, pour wine slowly over it, and cook for about 1 1/4 to 1 1/2 hours, depending on the size of the roast, basting about every 30 minutes or so with pan drippings.
Remove from oven, cover with aluminum foil and let rest for about 15 minutes.