diner524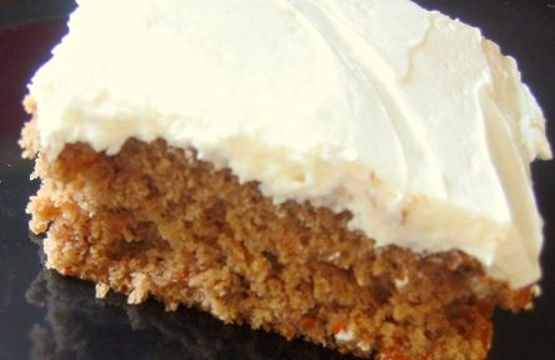 This is one of the best carrot cakes we have had. It is from Kraft, and is SO easy. I changed it a tad, by adding golden raisins to my liking, and I made it in a 11x13 pan, and added baking time to it until it tested done as directed. The prep time was based on shredding the carrots, but buying the prepared carrots cuts the prep time to about 10 minutes!
I made cupcakes with this recipe and they did NOT turn out. When you peeled off the wrapper cupcake split and you only got top portion of it. Bottom portion seemed very moist and stock to bottom of cupcake wrapper... 2nd batch i tried moving to lower shelf for the last couple of min of backing and they still did the same thing but very bottom seemed to be burnt... Any suggestions as to how to resolve this?
PREHEAT oven to 350°F, and spray baking pans with cooking spray. Preheat oven to 350°F.
Prepare cake mix batter as directed on package, stirring in carrots, pineapple and 3/4 cup of the pecans until well blended.
Pour into 2 (9-inch) square baking pans.
Bake 25 to 30 minute or until toothpick inserted in centers comes out clean. Cool.
MEANWHILE, beat cream cheese and sugar with electric mixer or wire whisk until well blended.
Stir in whipped topping until well blended.
PLACE 1 cake layer on serving plate.
Spread with 1-1/2 cups of the cream cheese mixture.
Carefully place second cake layer on top of first cake layer.
Frost top and sides of cake with remaining cream cheese mixture.
Garnish with remaining 1/4 cup pecans.
Refrigerate until ready to serve.