Shortcut Boeuf (Beef) Bourguignon
Annacia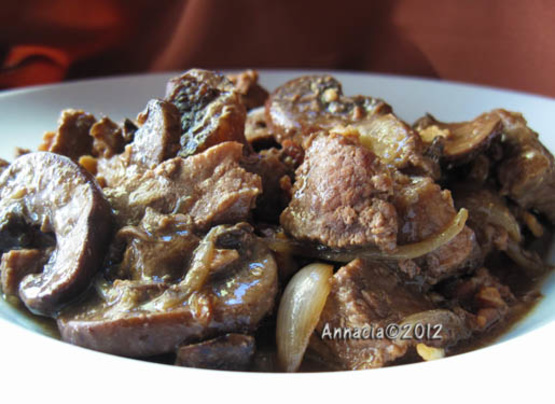 This is a quick version of a classic French dish. It's no Julia Child recipe, but it will do in a pinch! Serve this dish with a nice red wine. Enjoy!

Outstanding. This is so simple that any beginner can make it and it yielded very moist and almost melt in your mouth tender meat. I used a sirloin roast cut up. Even my uber picky DH kept eating until there was nothing left in the pot!! This will most certainly be on out table many times over. Thank you Nif.
Preheat oven to 325°F Either use a large stockpot that can go in the oven or transfer the food from the pot to a casserole dish for step 4.
Pan-fry bacon in heavy stockpot over medium heat until lightly browned. Remove bacon; set aside. Saute onion and mushrooms in bacon fat until just browned. Remove vegetables and set aside with bacon.
In same pot, brown beef in two batches, adding some oil if necessary. Sprinkle flour over browned meat. Add garlic, wine, broth, bay leaf, thyme, salt and pepper.
Cook, covered, in oven for 2 hours. Add reserved bacon, onion and mushrooms; cook 30 minutes longer.