Shortcut Asian Dumpling Soup

Directions
In a medium pot saute garlic and ginger in oil for a minute or two. Add broth, soy sauce, sugar and rice wine, Bring to a boil. Add dumplings and boil 5 more minuted over medium-low.
If using egg, beat with fork till frothy. Slowly pour into boiling soup in a thin stream, creating cooked ribbons of egg.
Remove from heat and garnish with scallions and pepper.
Reviews
Most Helpful
We loved this soup and really liked the broth flavor. The best part was the gyoza though. I used the whole bag and increased the liquid by an extra cup. My son will want me to make this soup often. Thank you!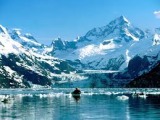 Hmm, to my dismay this was not as good as everyone said it was. I decided that perhaps I could enhance the flavor of the broth by adding soy sauce, but to no avail, the broth was still meh. For a quick and easy soup, I'd say 3.5 stars, but if I was served this at a restaurant, I would eat it, but I would not enjoy it
So wonderful and cooked in under 10 minutes. I used the pork gyoza from TJs. My only critique is I would double the recipe. I made for 2 of us and we would have like more, maybe double the liquid and keep the gyoza the same. Thanks so much for posting Sofie! Made for Culinary Quest FP, 2014.