mersaydees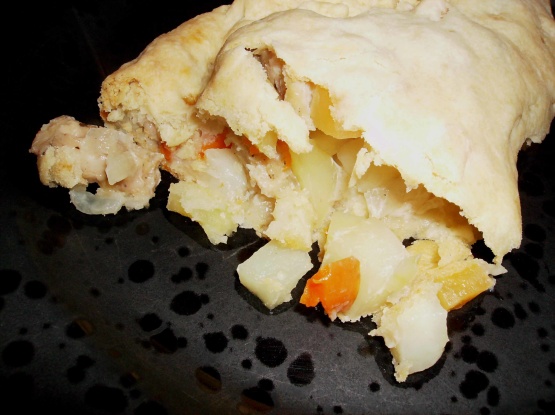 Easy and economical to make for use to make your own pies and tarts. Times given are when using a food processor, if doing by hand add another 5 minutes. Don't include chill time. If you have hot hands would advise using a food processor. You end up with enough for 2 tart cases (9") or for the top and bottom of a 9" pie. If using for a sweet dish add 2 teaspoons sugar after you rub in butter. Use as is for savoury dishes. I have edited this to 8 serves for if used as 2 bottoms or a top and bottom it would equate to 8 serves, giving a truer nutritional panel. Still does not include sugar for sweet pastry. Please note referring to a 250ml metric cup for USA cups + 2 tablespoons.

mmm excellent pasty recipe! very flakey and light, melt in your mouth! I used it to make a peach pie, every one loved it, thanks for posting.
Sift plain flour, baking powder and salt into a bowl (or in the bowl of the food processor).
Rub in the butter with finger tips (or use pulse button on the food processor) until mixture resembles course breadcrumbs.
Gradually add water until dough becomes a ball.
Remove and wrap in cling wrap and refrigerate for 30 minutes before using.