GaylaJ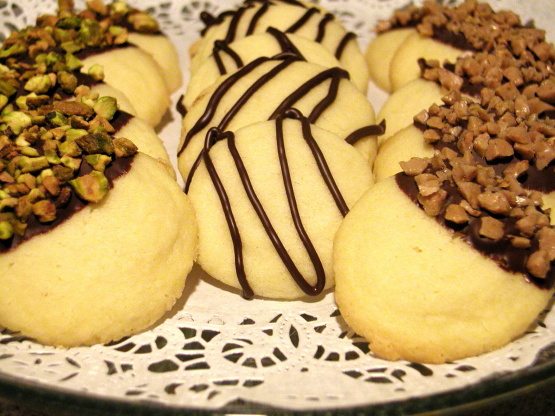 something extra special added to the everyday holiday treat. buttery and crunchy and so melt in your mouth delicious. it will a big hit!! it was for the church tea i made them for.
2

cups butter, softened

3

cups flour

1

cup icing sugar
1⁄4-1⁄2 cup crushed pistachios (approx, a bit time consuming to shell these but so worth it)
1⁄4-1⁄2 cup Skor English toffee bit (approx)

6 -8

ounces semisweet chocolate (approx)
preheat oven to 350* mix flour, butter and icing sugar together~blend well.
form into balls a bit smaller than golf balls.
place on cookie sheet about 2 inches apart.
slightly flatten-- very slightly.
bake for 15-17 mins.
until golden.
watch to not overbake.
cool on wire rack.
melt chocolate on low heat.
cool.
dip about 1/3 of the cookie in chocolate.
let excess drip off.
dip into crushed pistachios.
do the same with next 12 cookies but dip in skor bits.
put some melted chocolate in ziploc baggie snip off one corner or use a icing bag and drizzle over some plain cookies.
you will end up with 3 types 12 each kind:chocolate dipped with pistachios, chocolate dipped with skor bits and chocolate drizzle.