Pixie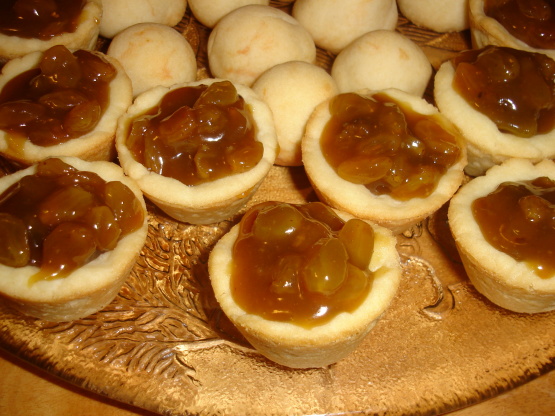 This recipe is VERY rich, but very delicious

Top Review by Pixie
I knew when I saw this recipe I would have to make them, and they would be wonderful. I did and they were! I used 2 mini-muffin tins and got 24 tiny tarts shells. I had leftover shortbread dough so I wrapped it around cherries for a second treat from the same recipe (made a dozen). Because my shells were so little, I decided to half the filling recipe which worked great. This was a really great addition to my Christmas baking, thanks for posting!
Cover raisins with boiling water. Let stand. Then drain.
Place rest of ingredients in double boilet. Cook until thick, then add raisins. Cool.
Shells:.
Mix the same as you would for shortbread, and pat into patty tins. Bake 15 to 20 mns 325F
Fill shells when cool.