Shortbread Crust for Custard Tart
Beth E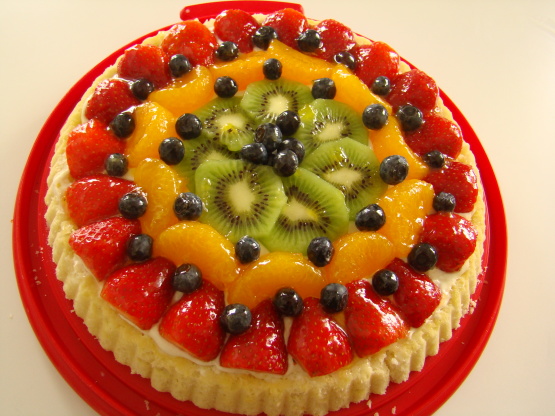 Fancy tarts always have a delicious buttery cookie-like crust. Here's a basic shortbread crust to fill with your favorite custard or pudding.

OUTSTANDING CRUST!!! I was burnt out on the whole "cookie/graham cracker" crust for pies so I wanted something different. I was making Recipe #289373 and wanted a lighter, not so heavy base. This recipe was perfect in all manner and complimented the flavour of those bars to perfection! NOTE: I doubled the recipe, ditched the extract, didn't chill it and pushed it right into place with my fingers into a 9" x 13" pan. It is NOT necessary to either chill this lovely dough or roll it out for tarts, Chefs! Just blend it, knead it for a minute and push it into place. I can't wait to try it for tarts.
In a mixing bowl, cream butter and sugar until light and fluffy with electric mixer (about 3 minutes).
Add extract; mix thoroughly (1 minute).
Incorporate flour little at a time; mixing until thoroughly combined.
Cover bowl with plastic wrap and chill for 1 hour.
Turn dough out on a lightly floured board and roll out to 1/3" thickness.
Line a tart pan (10" x 1" high with removable bottom) with the pastry dough.
Prick dough and place in a preheated oven at 350 degrees.
Bake for 15- 20 minutes or until golden brown.
Remove from oven; cool and fill with pastry cream top with fresh fruit (kiwi, banana, strawberry, green seedless grapes, blueberries).