Brenda.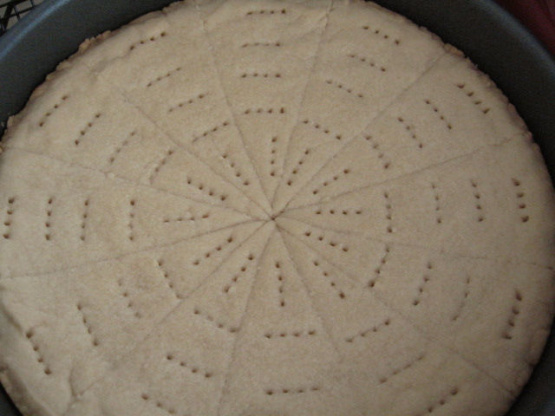 Hillbilly Housewife website

Great recipe! I was looking for a shortbread recipe that used margarine instead of butter, so thank you! I doubled the recipe, but found it too crumbly to work with, so I had to add about 1/4 cup extra margarine to make it manageable. However, I rolled it out and used cookie cutters (which worked great!), it just took me a while since the dough was so fragile (so it wasn't so quick for me!). But it was worth it! It tasted great! I'll hang onto this recipe! Thanks Orion's WIfe!
Soften up the margarine first. Add the sugar, salt and vanilla. Mix it until it is soft and creamy. Add the flour. Stir it up until it is thick, like pie crust. You will probably need to use your hands. Knead the dough until it is smooth and soft. Pat the dough onto a pizza plate or cookie sheet to a big circle about 1/2 inch thick. Cut the big circle into 16 or 20 wedges. Use a pizza cutter to make cutting it easy. After it is cut into wedges, poke the surface all over with a fork. You can make pretty designs, if you want to. Bake the big cookie at 350F for about 20 minutes. The edges will be brown. Use the pizza cutter to re-cut the lines in the cookie. Allow it to cool and serve with tea for a special tea party.