Derf2440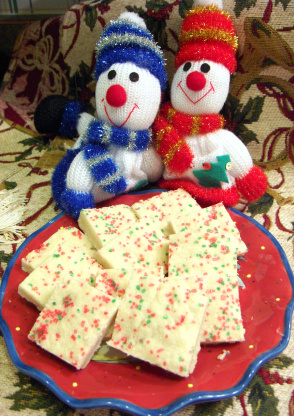 This traditional cookie never goes out of style. Great for Christmas gifts.

Several years ago shortly after being introduced to RecipeZaar I made a decision which I have followed without regret ever since. The decision: when faced with the dilema of choosing from similar, and highly recommended recipes, if given the option -- always go along with MizzNezz ! I have never regreted the decision, so -- thanks once again MizzNezz. I believe I could come up with lots of "touch-ups" to add to the shortbread, but I am a firm believer in Aaron Copeland's theory of artistic expression -less is more! So why try fixin' something that ain't broke?
In lg bowl, combine flour and sugar.
Cut in butter until you have a fine crumbly mixture.
Knead dough until smooth, about 7-8 minutes.
Pat dough into ungreased 15x10 pan.
Pierce with fork all over.
Bake at 325* for 25 minutes, until light brown.
While warm, cut into squares.