Shockingly Sweet Stewed Tomatoes
2Bleu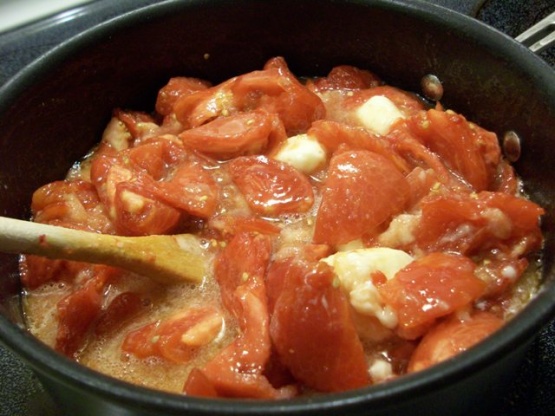 Adapted from Real American Food by Jane and Michael Stern (Alfred Knopf, 1986). Copyright 1986 by Jane and Michael Stern, and found at thesplendidtable.com. I like to serve this sweet/tart side dish with a plain, grilled meat, and a green salad. I personally add less sugar - closer to 1/2 of a cup, but wanted to submit the recipe in its original form.

I respectfully, but heartily disagree with the previous review. I used fresh tomatoes, including some cherry tomatoes. I DID add a pinch of salt, because we like salt in our household. We found this warming and tasty. A nice addition to our 'comfort food' files for chilly evenings.
Place tomatoes in a large saucepan. Tear toast into about 4 pieces per slice; add to tomatoes. Add butter and sugar. Simmer, uncovered, 20 minutes, stirring occasionally. Serve warm.