Shiver Me Timbers Thai Inspired Cole Slaw
Rita1652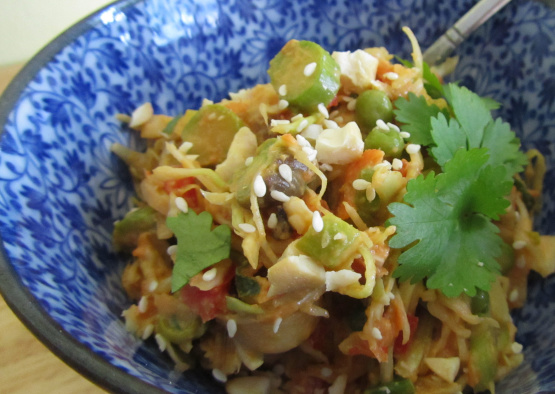 A Delicious Cole slaw inspired by Each 'o th' band 'o pirates Pantrys, includin' 2 from th' Plunder list. A sweet 'n spicy peanut sauce coatin' lots 'o healthy vegetables. Woe ye enjoyed th' salad made band 'o pirates way. jolly health to ye.

It's asparagus time here and I am glad that this recipe was created. It's nice and fresh. used soy sauce and fresh basil. Found that one teaspoon sesame oil was enough, otherwise the taste would have been too strong. I halved the recipe, otherwise it would have been too much for us. The leftovers were nice but I would not recommend to save it for more than two days, the asparagus gets too wilted. Thanks for creating and posting. Made for Raiders of the Lost Pantry Contest.
Place th' dressin' in'redient in a blender 'n blend 'til smooth.
In a large bowl toss all th' salad in'redients wit' th' dressin'.
Dressin' may seem thick but th' cabbage gunna exude liquid 'n be perfect.
Chill fer 1 hour fer flavors to meld.
Toss before servin', place in a servin' bowl toppin' wit' garnishes 'o ye likin's.
Thank you for trying my recipe.