Shirataki Noodles With Sun-Dried Tomatoes
IngridH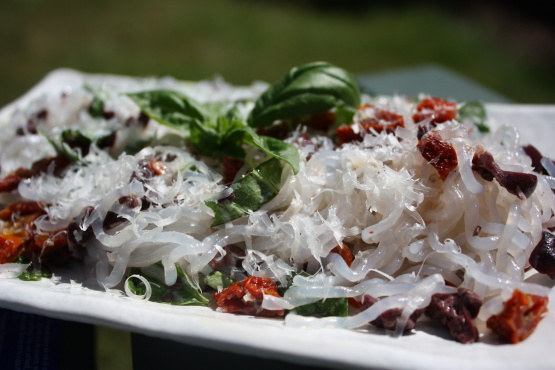 This makes a super fast and light Greek inspired lunch! I use fresh basil from my garden.

I'm not entirely happy with this dish. I use shirataki noodles fairly often, mostly in Asian recipes. To me, the combination of very highly flavored ingredients (olives, sun dried tomatoes, parm) with such a bland ingredient (shirataki) just didn't work. It is easy to make, looks beautiful on the plate, but the flavors just didn't meld into a harmonious dish.
Re-hydrate sun-dried tomatoes.
Rinse and drain tofu noodles. Microwave tofu noodles for one minute and drain again.
Toss noodles with oil.
Add chopped sun-dried tomatoes, olives and basil and toss until distributed.
Warm noodles in microwave until temperature is desired.
Top with fresh parm and enjoy!