Shikshuka (Scrambled eggs and tomatoes)(شكشوكه)
Bergy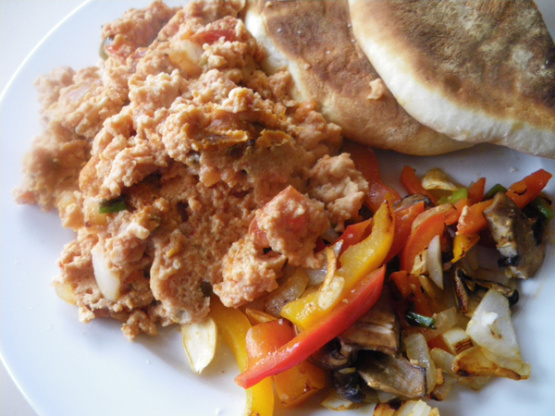 Quick and easy breakfast. Serve with cubed cheddar cheese and olives.

We didn't love the flavour, it was different for eggs to us, but it is fine. The texture of the eggs is really soft which I didn't like. I used whole canned plum tomatoes blended up to make a sauce, sea salt, freshly ground black pepper, freshly ground coriander, plus the rest. Not a recipe I would make again.
I have never measured the exact amounts i use here, these are approximate, so just adjust it to your personal taste.
Spray a medium saucepan with cooking spray (or use butter if you prefer, it will taste better that way), and cook the onion until it is softened.
Add tomatoes, salt, pepper and spices, and cook for 1 minute.
Add eggs, and cook until just set.
Eggs should be red-orange.
Serve with pita bread.