ChefLee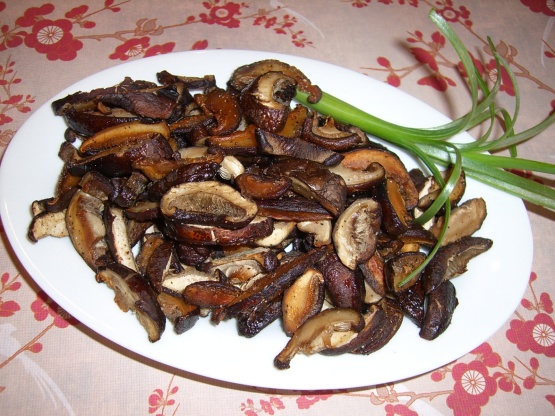 This is my favorite way to prepare shiitake mushrooms!! I just roast them with a little olive oil, salt, pepper, and garlic powder!!! I love shiitakes because they have a low water content compared to some other mushrooms so they roast up really well! They are great alone or on sandwiches!!! Hope you like them!!!
3

(3 1/4 ounce) crates fresh shiitake mushrooms

3

tablespoons light olive oil
1⁄8 teaspoon salt (or just shake it over the shrooms)
1⁄8 teaspoon pepper (or just shake it over the shrooms too)
1⁄8 teaspoon garlic powder (or just shake this over them too!)
Preheat the oven to 400 degrees F.
Use a damp paper towel to wash the tops of your mushrooms. (mushrooms are like sponges, you don't want to wash them in water because they will become watery and tasteless).
Remove any large stems. (shiitake stems are sort of woody and tougher than the caps).
Slice the mushrooms and place on a cookie baking sheet.
Pour the olive oil over the slices and toss to coat with a spatula.
Sprinkle the shrooms with salt, pepper, and garlic powder.
Give the cookie sheet a shake to spread all the shrooms out flat.
Roast in the oven for 10 minutes.
Remove the mushrooms immediately from the baking sheet with a spatula.
Enjoy on a sandwich or any way you want!