Sherry Tofu and Snow Peas
Julesong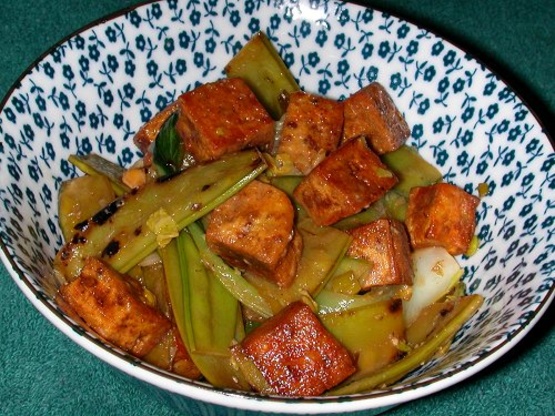 My vegetarian friend Matthew and I get together to cook now and then (he being a newbie chef), and this was the first dish we made as his introduction to veggie cooking. Very tasty! Based on a recipe from Curtis Aikens.

Good recipe, but perhaps a bit bland. My BF made this for dinner the other day, served over orzo. He said he fried the tofu for about 10 minutes, but it did not brown, or subsequent cooking pretty much erased whatever color or texture came from fying. He used less oil and peanuts instead of cashews, though I think cashews definitely would have been better. Also, snow peas were overdone (again, sorry, not recipe's fault I think) so don't overcook them. Sesame oil and more garlic might help. Mild taste, better for a family with kids perhaps. Sorry I couldn't rate this better, then again note that I didn't make it! I had second thoughts about rating this at all, but I still think it needed more flavor. Maybe I will try making this myself again and will rerate. Thanks!
Fry the tofu, covered, in 1 tablespoon of the oil until the tofu is nicely browned; remove from heat.
In a small bowl, mix together the sherry, soy sauce, and cornstarch; pour over the tofu, stir well, and set aside to marinate.
Remove the ends and strings from snow peas and cut each one into 2 to 3 pieces.
Blanch the snow peas in boiling water for 1 to 2 minutes, then plunge them into very cold water to halt further cooking.
In a skillet or wok heat the remaining 2 tablespoons of oil and saute the green onions, minced yellow onion, water chestnuts, and garlic for 4 minutes; add the snow peas and cashews and stir well.
Add the tofu together with the marinade, lemon juice, and pepper and cook for 3 to 5 minutes or until the snow peas and sauce reach desired texture.
Serve immediately with rice or noodles.