Sherry and Butternut Squash Soup
Patti H.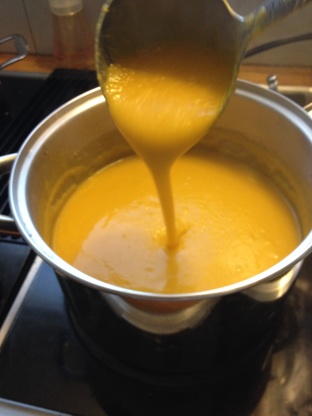 I was trying to capture the flavor of the Fresh Choice Fall Harvest Butternut Squash Soup. I started from scratch, so I'm claiming this recipe as my own.

Hi There...I just wanted you to know that I just made your Butternut Soup mostly using your recipe...And It turned out Wonderful.<br/>I idid a few things differently...<br/>1. I roasted the squash<br/>2. I added one apple peeled and diced and added to the celery process when there was only a few minutes left.<br/>3. I used Marsala Sweet wine as I didn't have any Sherry. I'll use the Sherry next time<br/>All in all, it has a wonderful texture and taste. I will use your recipe again.<br/>Thank You.
In one pan, stir fry the celery in a small portion of olive oil. When softened, add a quarter cup of sherry and cover immediately. Let simmer for 5 minutes. Add 1/4 cup chicken broth and continue to simmer.
In a separate large saucepan, stir fry the squash on medium heat until bright orange.
Pour in remaining sherry and cover immediately. Let simmer for 5-10 minutes.
Add in remaining chicken broth and add in bouillon. Add enough water so that the squash is completely covered, about 2 cups. Let cook until completely tender (you can test with a fork; if it goes completely through without resistance, it's done).
Combine butternut mixture and celery mixture into a large blender and blend until completely smooth.
Pour back into the large saucepan. Add butter, half and half, onion powder and garlic salt. When the butter is done melting in, you're done.
Garnish with cheddar and sour cream, if desired.