Sherri's Cheese Tea Sandwiches
JSkizzle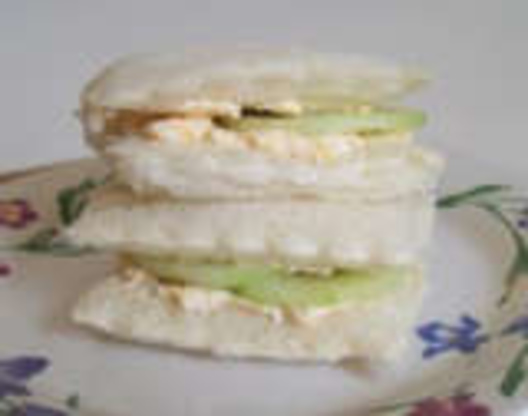 This recipe is really easy to make your own-change it up by using different shredded cheese, dijon mustard, flavored cream cheese, and /or breads. Sandwiches may be frozen, omitting the cucumber; thaw in refrigerator, and add cucumber before serving. Also, I will make this sandwich just for me-esp. when cucumbers are in season or just top some crackers with the cheese mixture. Cooking time is refrigeration time after preparation. From Southern Living, 1992. Enjoy!!!

Top Review by Gerry
Have been looking for tea sandwiches for those special occasions when wanting sandwiches with great taste and presentation - these do just that! As has already been said - fabulous sandwiches! Made as posted - no changes needed with this one! Thank you for sharing.
Combine first 4 ingredients; add cayenne, if desired, and set aside.
With a 1-3/4" cookie cutter, cut 2 rounds out of each bread slice.
Spread half of bread rounds with cheese filling and top with cucumber slices and remaining bread rounds. (I actually like a thin layer of filling on each side of the bread.).
Place in shallow container, top with slightly dampened paper towels and cover with plastic wrap; refrigerate 8 hours.