Sherri's Breakfast Casserole
BecR2400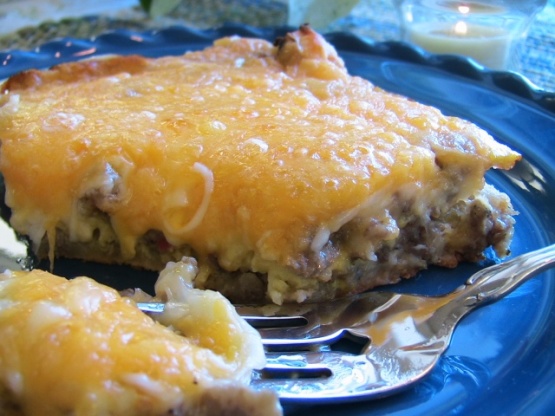 This is a family favorite-so simple and easy! May be prepared a day ahead and also freezes well after cooking. Great for busy weekends and holidays. I like to serve w/ salsa, fresh fruit, and cinnamon rolls. Enjoy!!!

Yet another great recipe from Mrs.Jack! I added the onion while browning the sausage, in addition to 2 T minced garlic. I also might have used a little more cheese than called for. ;) This was a huge hit at "Girls Weekend" and one I will certainly be making again. Thanks for being such a fantastic PAC baby, Mrs.Jack! **Made for Fall PAC 2008**
Flatten rolls in bottom of greased 9x13 baking pan or casserole dish.
Brown sausage and drain.
Add onion and mushrooms to sausage and pour mixture over rolls.
Add cheese on top of sausage.
At this point you may continue or casserole may be refrigerated overnight.
Beat eggs and pour on top and cover with foil.
Bake at 350F for 40-45 minutes; brown last 10 minutes.
Remove from oven and let set 5 minutes.
If you are freezing, allow casserole to cool and freeze. To bake, place in oven directly from freezer but allow about 50-60 minutes for baking.