Sherried Onion and Almond Soup With Saffron
Mike K.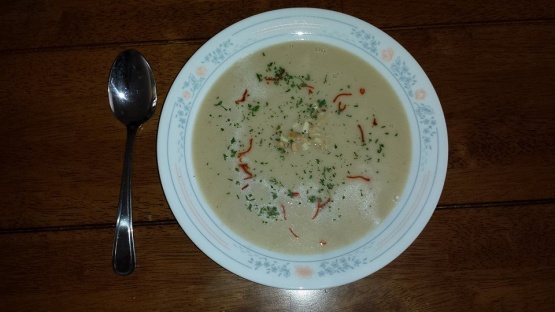 This is from The Onion Cookbook by Brian Glover. It is a perfect starter because it looks beautiful and has a delicate taste.

This is a superb soup - elegant, delicious, quick to make and perfect for entertaining. So little effort for such great results. I conveniently used a stick-blender in the pot, rather than transferring the soup to a blender. This recipe now has a permanent place on my dinner party list.
40

g butter (3 tbsp)

2

large yellow onions, thinly sliced

1

small garlic clove, finely chopped

1

pinch saffron strand

50

g blanched almonds, toasted and finely ground (2oz)

750

ml good chicken vegetable stock (3 cups)

45

ml dry sherry (3tbsp)
salt & freshly ground black pepper

30

ml sliced almonds, toasted and chopped (2tbsp)
fresh parsley (to garnish)
Melt the better in a heavy saucepan over a low heat to prevent it from burning. Add the onions and garlic, stirring frequently for 15-20 minutes until the onions are soft and translucent.
Add the saffron and cook, uncovered, for 3-4 minutes. Add the ground almonds and cook, stirring continuously, for 2-3 minutes. Add the stock, sherry and 1 tsp salt and plenty of pepper. Bring it to the boil and then simmer gently for about 10 minutes.
Process the soup in a blender until smooth, then return it to the rinsed pan. Reheat slowly without allowing the soup to boil, stirring occasionally. Check the seasoning.
Ladle the soup into heated bowls, garnish with the toasted almonds and a little parsley and serve immediately.